Sammy Davis, Jr., made guest appearances on both "All in the Family" and its spinoff series, "Archie Bunker's Place".
Personal Information
Birthname:
Samuel George Davis, Jr.
Born:
December 8, 1925
Birthplace:
New York City, NY, U.S.
Died:
May 16, 1990
(aged 64)
Deathplace:
Las Vegas, Nevada, U.S.
Occupation/
Career:
Entertainer, Actor, Singer, and Philanthropist
Years active:
1933-1989
Character/Series involvement
Series:
All in the Family
Archie Bunker's Place
Episodes appeared in:
As himself in the AITF episode "Sammy's Visit" in Season 2
As himself in the episode "The Return of Sammy" in Season 1 of Archie Bunker's Place
Samuel George "Sammy" Davis, Jr. (born December 8, 1925 – died May 16, 1990) appeared as himself in the second season episode of All in the Family titled "Sammy's Visit" (#5), which garnered lots of media attention internationally and high Nielsen ratings for his sarcastic "kiss" of Archie upon leaving the Bunker house! Sammy would reappear an episode during the Season 1 episode of Archie Bunker's Place titled "The Return of Sammy" (#19), where Archie saves his life after Sammy starts to choke on a Swiss steak! A multi-talented veteran actor and entertainer. Primarily a dancer and singer, he was also known for his impersonations of actors and other celebrities.
Early life
Sammy was born in New York City, the only child of Sammy Davis, Sr., an African-American entertainer, and Elvera Sanchez,[1] a tap dancer. During his lifetime, Davis, Jr. stated that his mother was Puerto Rican and born in San Juan, Puerto Rico; however, in the 2003 biography In Black and White, author Wil Haygood writes that Davis, Jr.'s mother was born in New York City to Cuban American parents, and that Davis, Jr. claimed he was Puerto Rican because he feared anti-Cuban backlash would hurt his record sales.[2][3][4]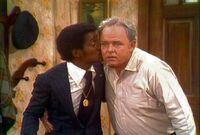 Sammy started as a child vaudevillian who became known for his performances on Broadway and Las Vegas. He went on to become a world famous recording artist, television and film star. Davis was also a member of Frank Sinatra's "Rat Pack". At the age of three Davis began his career in vaudeville with his father and Will Mastin as the Will Mastin Trio, toured nationally, and after military service, returned to the trio. Davis became an overnight sensation following a nightclub performance at Ciro's after the 1951 Academy Awards. With the trio, he became a recording artist. In 1954, he lost his left eye in an automobile accident.
Film career
His film career began as a child in 1933. In 1960 he appeared in the first Rat Pack film, Ocean's 11. After a starring role on Broadway in 1956's Mr Wonderful, Davis returned to the stage in 1964's Golden Boy, and in 1966 had his own TV variety show, The Sammy Davis Jr. Show. Davis' career slowed in the late sixties, but he had a hit record with "The Candy Man", in 1972, and became a star in Las Vegas earning him the nickname Mister Show Business.[5][6][7]
Political views & Philanthropic causes
As an African American, Davis was the victim of racism throughout his life, and was a large financial supporter of civil rights causes. Davis had a complex relationship with the African-American community, and attracted criticism after physically embracing Richard Nixon in 1972. One day on a golf course with Jack Benny, he was asked what his handicap was. "Handicap?" he asked. "Talk about handicap—I'm a one-eyed Negro Jew."[8][9] This was to become a signature comment, recounted in his autobiography, and in countless articles.[10] This was to become a signature comment, recounted in his autobiography, and in countless articles.[10] After reuniting with Sinatra and Dean Martin in 1987, Davis toured with them and Liza Minnelli internationally, before dying of throat cancer in 1990. He died in debt to the Internal Revenue Service, and his estate was the subject of legal battles.[11]
NAACP Spingarn Award
Davis was awarded the Spingarn Medal by the NAACP, and was nominated for a Golden Globe and an Emmy Award for his television performances. He was the recipient of the Kennedy Center Honors in 1987, and in 2001, he was posthumously awarded the Grammy Lifetime Achievement Award.
References
External links