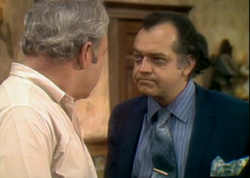 Russell "Russ" DeKuyper was a recurring character who appeared in two episodes of All in the Family, first in the Season 2 episode "Edith Gets a Mink", then in the Season 5 episode "Amelia's Divorce". The part of Russ was played by Richard Dysart in his first appearance in "Edith Gets a Mink", before being replaced in the role by George S. Irving.
Relation to the Bunkers
Russell DeKuyper was married to Edith Bunker's cousin Amelia.  He worked as a plumbing contractor and the couple lived in Westchester County, north of New York City. In Russ's first appearance in the episode "Edith Gets a Mink", after Amelia sends Edith an old mink coat as a gift because she bought a new one; the Jeffersons, unable to clean a pasta sauce stain that Edith accidentally put in it, accidentally destroy it. George and Louise offer The Bunkers an insurance check worth $300. Amelia and her husband Russ both come to visit and he and Archie get into an argument when Russ begins comparing his home to theirs. When Louise drops off the check, Russ insists on taking it, but Archie makes it clear that he intends to keep it. That is, until he discovers that it is made out to Edith's cousin Amelia.
In the "Amelia's Divorce" episode, when Russ and Amelia visit Archie, Archie, tired of hearing Russ brag about his job and how much money he earns, tries to excuse himself by going down to Kelcy's only to find that Russell wants to go with him. Separately, both Archie find out how much trouble Russell and Amelia's marriage really is in, while Edith finds out the same from Cousin Amelia. Russell, who likes to think of himself as somewhat of a "ladies man", tells Archie about his appetite for young girls, but when he tries to hit on one who enters the bar, he gets flatly turned down.