Jonelle Allen made an appearance as Marabel, a stewardess girlfriend of Wally, a lodge buddy of Archie's in the AITF episode "Archie's Other Wife" in Season 8.
Personal Information
Born:
[1][2][3]
July 8, 1948
Birthplace:
New York City, New York, U.S.
Occupation/
Career:
Actress, singer, dancer
Years active:
1970–present
Character/Series involvement
Series:
All in the Family in guest appearance
Episodes appeared in:
"Archie's Other Wife" in Season 9
Character played:
Marabel
Jonelle Allen (born July 8, 1948)[1][2][3] guest starred as Marabel, a stewardess and date of Archie's lodge buddy Wally (Harvey Lembeck), who, along with the other buddies and Marabel, play a practical joke on Archie in the episode titled "Archie's Other Wife" in Season 9 of All in the Family (#7).
Biography
Life and Early Career
Born in New York City, Jonelle grew up in Harlem's Sugar Hill among neighbors that included Duke Ellington, Sonny Rollins, and Johnny Hodges, all of whom had an influence on her career choice. She made her Broadway theatre debut at the age of six in The Wisteria Trees, Joshua Logan's Americanized adaptation of The Cherry Orchard starring Helen Hayes. As a child she also made regular appearances on a local children's television series, The Merry Mailman, hosted by Ray Heatherton.
Allen returned to Broadway for a 1955 revival of Finian's Rainbow. She was in the cast of the original off-Broadway production of Hair at Joseph Papp's Public Theater and also appeared in George M! before receiving critical acclaim and a Tony Award nomination for Two Gentlemen of Verona, which earned her New York Drama Critics' Circle, a Drama Desk Award, Theatre World Award, and Outer Critics Circle Award for her performance. Despite her success, it proved to be her last Broadway appearance to date.
Film/TV Credits
Allen's film credits include Cotton Comes to Harlem, The Hotel New Hampshire, and The River Niger, for which she won an NAACP Image Award. She had a regular role in the dramatic series, Dr. Quinn, Medicine Woman, from 1993-97. Other television appearances along with her AITF appearance include Barney Miller, The Love Boat, Trapper John, M.D., Hill Street Blues, Cagney and Lacey, ER, and Girlfriends. She played a lesbian prison inmate in the 1975 television movie, Cage Without a Key, which starred Susan Dey.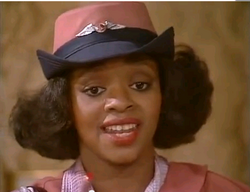 Jonelle's most notable roles are the flamboyant and outspoken Doreen Jackson on the NBC soap opera, Generations, and Lucinda Cavender, the vampire witch in the horror comedy film, The Midnight Hour. Before her role of Doreen on Generations, Jonelle played ambitious salesgirl turned boutique manager Stacey Russell, on the short-lived primetime soap, Berrenger's.
Allen appeared as the legendary Harlem Jazz Queen Florence Mills in Harlem Renaissance at the 2007 Edinburgh Festival Fringe.
She is currently working at the Conservatory of the Arts in San Juan Capistrano.
References
External Links