Jennifer "Jenny" Willis Jefferson is the only daughter of Helen and Tom Willis, the younger of their two children. She was portrayed by Berlinda Tolbert, except for her first appearance in All in the Family, when she was portrayed by Lynne Moody.
Jenny, Lionel and clashes with George
Jenny is an intelligent person, finishing college with her boyfriend, Lionel Jefferson. George often disapproves of Jenny loving Lionel merely because she is, in George's own word, a "zebra". George calls her this because her mother is black, but her father is white, thereby by making her biracial. In 1976, Jenny marries Lionel, though they divorced in 1985 after nine years of marriage. She has a daughter named Jessica (played by Erin Hollin and Leslie Hollin (Seasons 6-7) and later by Ebonie Smith (Seasons 10-11).
At first, Jenny, who would become a fashion designer later in the series, disliked her brother Allan when he came home after two years in Paris, mainly because she turned out "black" and he turned out "white". But as siblings go, they reconcile and return their love for each other. Their love stayed strong, as Jenny asked Allan to be Jessica's godfather. But since Allan was snowed in, Harry Bentley was to be the proxy. 
On the AITF spinoff series, The Jeffersons, Jenny and Lionel's relationship would continue to develop from the point where it began on AITF. They would become a steady couple, getting married in December 1976, in Season three of the series, and later became the parents of a daughter, Jessica (played in later seasons by Ebonie Smith). Lionel and Jenny experienced marital issues, and separated by the spring of 1985, and later divorced, presumably, in the winter of 1985, after the The Jeffersons series had already been cancelled, which was on July 24, 1985.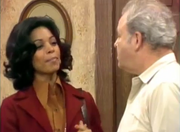 Community content is available under
CC-BY-SA
unless otherwise noted.